Dual Carbide Insert Grader Blades
Dual-Carbide Blades with a New Improved Braze and a More Wear-Resistant Steel Body!
…engineered specifically to reduce costs associated with replacement part inventory, downtime, labor, and overall operations!
Available exclusively through Kennametal – the only manufacturer of this innovative blade
Outlasts imbedded carbide granule-style blades
Features a universal bolt-hole and a variety of available lengths for maximum compatibility
Dual-carbide tungsten insert blades, specifically designed for high-abrasion and low-impact applications to stay straight; maintain a sharp, clean edge; and stop crowning
First insert is formulated with our proprietary macrocrystalline carbide grade for toughness and impact resistance and mounts on the front of blade
Second insert is made from a wear-resistant carbide grade and mounts directly behind the first insert insert to resist wear caused by blade down pressure and abrasion
Backed by a comprehensive warranty program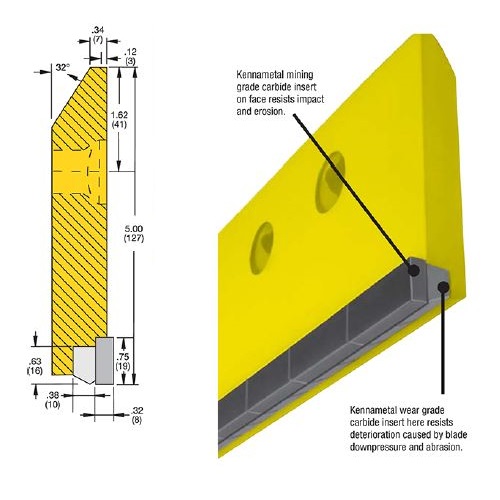 Dual-Carbide Blade Sizes/Ordering Information
(Blades beveled at top to fit grader moldboard)
Thickness
in.(mm)
Width
in.(mm)
Length
in.(mm)
New Order
Code
Old Part
Number
Bolt Dia.
in.(mm)
Weight
lbs.(kg)
.875
(22)
5
(127)
24
(610)
1011871
904981999
.625
(16)
32
(15)
.875
(22)
5
(127)
36
(914)
1011872
904982000
.625
(16)
48
(22)
.875
(22)
5
(127)
48
(1219)
1011875
904982001
.625
(16)
63
(29)
.875
(22)
5
(127)
36
(914)
1011879
904982003
.750
(19)
48
(22)
.875
(22)
5
(127)
48
(1219)
1011877
904982002
.750
(19)
63
(29)
.875
(22)
5
(127)
60
(1524)
1311238
N/A
.625
(16)
77
(35)
Specifications
Steel holder:
SAE 1040-1045, hot-rolled
 
Carbide inserts:

Front .750-inch (19mm)high, impact resistant
Rear .625-inch(15mm)high, wear resistant

Braze:
A high-strength alloy material
 
Bolting Recommendations
To reduce the likelihood of blade chatter and/or failure, use Grade 8,
Number 3 head plow bolts and nuts.
Hole-Punch Data
Standard 6-inch (152mm) on centers
.687-inch (17mm) square, countersunk to receive .625-inch (16mm) diameter plow bolts;
OR .812-inch(21mm) square, countersunk to receive .750-inch(19mm) diameter plow bolts
Holes accurately punched to fit ANY make/model of grader
Dual-Carbide Blade Accessories
MAG/500 x (1/2″) thick Cover Blades are essential when operating Dual-Carbide Grader Blades in extremely abrasive conditions. Because the non-carbide portion of the Dual-Carbide blade is a much softer material, the wash within the front portion of the blade causes the bolt-heads to wear before all of the Carbide is consumed. Therefore, these extremely wear-resistant Cover Blades provide the additional wear needed to consume the entire amount of Carbide.
Users should know that it is not necessary to install these Face Cover Blade when a new system is installed… only when the bolt-heads are in jeopardy of containing the blade on the Grader moldboard. It is MHL's feeling that when the bolt-heads can no longer secure the Dual-Carbide Blades to the Grader, the MAG/500 Face Cover Blades should then be installed. With this procedure, we know of users where a set of the Cover Blades will last long enough to protect and give the necessary wear-life to (3-4) sets of Dual-Carbide Blades.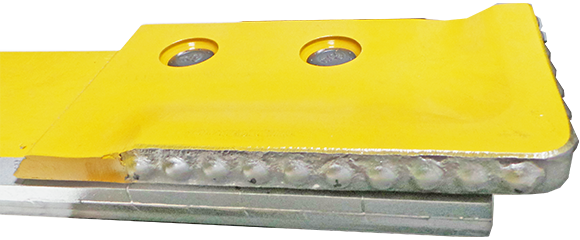 Bottom view of carbide dowel type end protector
Can be used with the following systems:
Kennametal dual-carbide grader blade
carbide snow plow blade using armor-500 protection plates
End view of carbide dowel type end protectors
View shows measure of 7 – carbide dowels shielding end wear of carbide blades
Carbide dowels are embedded individually to prevent breakage
Carbide dowels throughout are mining grade quality
Size: 0.78″ long x 0.55″ diameter
100% warranty against breakage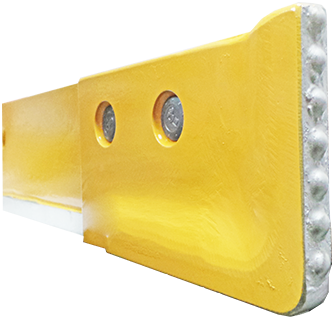 Bottom view of carbide dowel type blade saver
can be used with the following systems:
Kennametal dual-carbide grader blades
Carbide combination ice & snow removal systems
Carbide snow plow blades using armor-500 protection plates
Any type of carbide blades used as a blade saver for added wear-life
End View: Showing spacer for MAG/500 x (1/2″) thick Cover Blade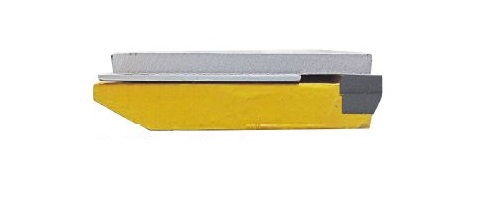 Bottom View: Carbide Dowel Severe Duty End Protector.
Two rows carbide dowels attached on outside and bottom.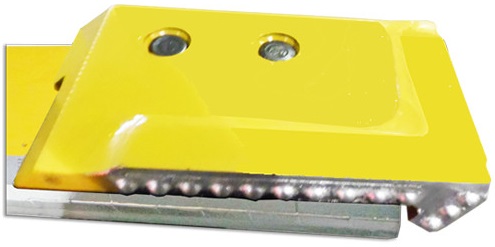 End/Bottom View: Showing firm/compressed fit along edges of
MAG/500 x (1/2″) thick Cover Blade & Dual-Carbide Front Insert



Front View: 2-ft Dual-Carbide Blade showing total protection from
MAG/500 x (1/2″) thick Cover Blade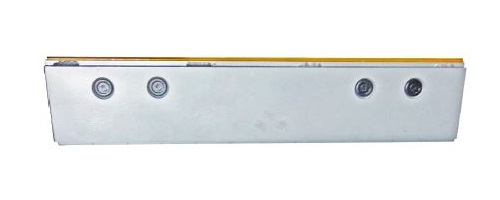 MHL Systems Grader Blade plus Armor Plates
Armor (500) Plates: Produced using 1/4-3/8-1/2 inch thickness.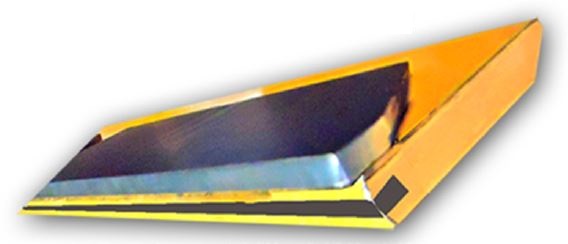 Full carbide insert protection while blading at a 20 degree wear angle.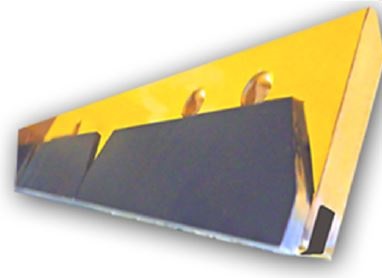 Carbide insert wear indicators (V's) spaced every 12 inches.


Bottom view showing total length (3 or 4 foot) grader blades.
Carbide inserts either 5/8″ or 3/4″ high.