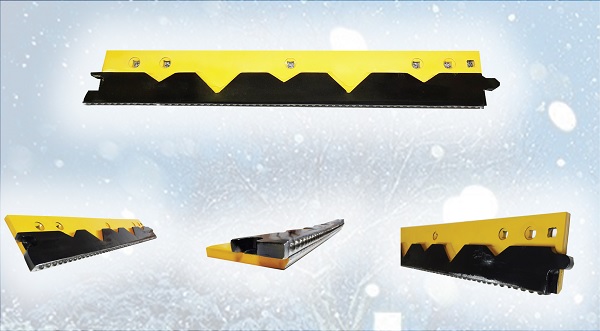 Carbide dowels on the leading edge positioned to breakup & cut ice.
Carbide dome-shaped dowels are securely mounted & isolated from one another to provide optimum breakage resistance.
Trailing carbide tungsten blade cleans ice particles while plowing snow.

Carbide tungsten inserts are 3/4″ in height providing maximum sum of carbide. Together form a unique blade system from Kennametal's carbide material that provide maximum wear-life compared to other carbide blades. Interlocking system is made from
MHL's best impact & wear-resistant steel that includes a warranty against breakage during the wear-life of the system.

V-grooves for welding serve as wear-indicators that are evenly spaced enabling an operator to see at a glance how much carbide is left in each blade. Construction made from 3-ft, 4-ft, 5-ft & 6 ft, to make combinations for almost any blade length.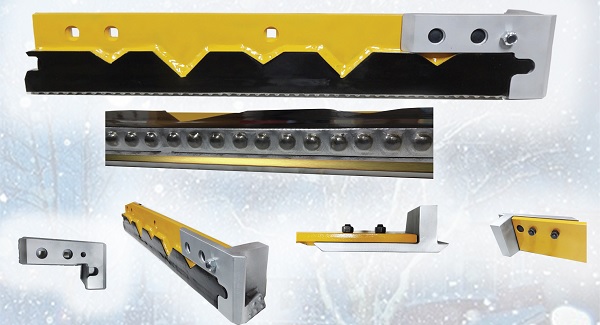 Interlocking end guards are produced at various wear-angle degrees depending on customer needs.
Interlocking end guards use carbide dowels positioned on the 1-1/2″ thick manganese (500) rear-support block

All interlocking end guards have an extra reversed grade & plow bolt with lock nut positioned 1″
from the outside of the end-blade providing maximum strength attachment & also hold the end guard level with
the blade at all times.

Bottom view of Combination Ice & Snow Removal Blade
Showing Maximum-Duty Dowel Joint Protector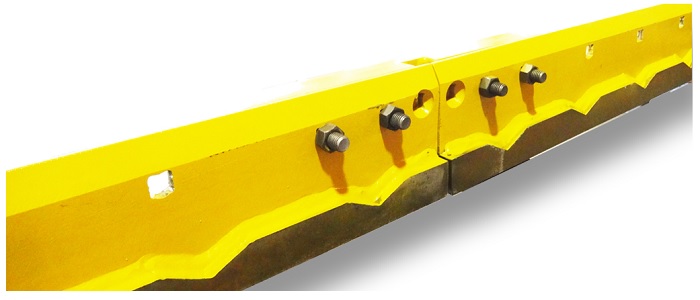 Rear view of Combination Ice & Snow Removal Blade
Showing top-beveled blades for grader application
Also, top-square blades for snow plow application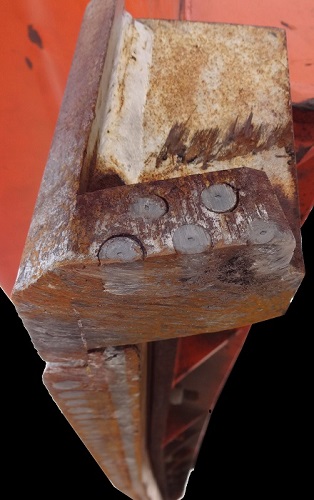 Interlocking end guards with embedded carbide dowels provide even wear surface throughout the entire length of the blade. When wear indicators suggest that it is time to rotate the blade sections, it is important for the ends of all sections to be fit flush.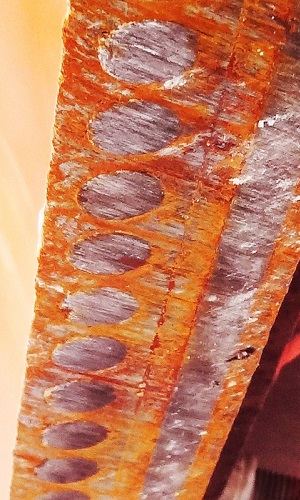 Rear support carbide blade with Large insert x (3/4″) tall is designed to interact with dowels for removing remaining ice & snow. Leading carbide dowels x (3/4″) tall are designed to chip & cut ice & hard-packed snow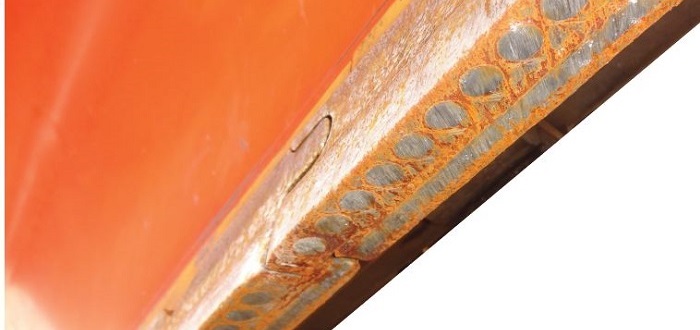 Each blade section is fabricated with authentic interlocking joints that provide equal strength at all locations where blades are joined together
Warranty & breakage guarantee:
MHL Systems guarantees all materials against breakage during the complete wear-life of the snow plow blade. If any part of the (MAG/500) Interlocking Material or any welded area breaks while there remains Carbide Tungsten Inserts to be worn, the blade will be replaced along with the adjacent blades which make up the entire length of the snow plow blade.
Example: Should one 4-ft MHL Interlocking Carbide Snow Plow Blade break which is a section of a 12-ft snow plow blade consisting of three (3) pcs x 4-ft, MHL Systems will replace all three (3) Carbide Blades making up the 12-ft original snow plow blade.
This is an unconditional warranty which helps MHL Systems to stand alone as there are no other manufacturers using this warranty policy.